Patrick Fortney is the conductor and musical director of the Great Plains Music Society. He is also the director of Star City Music Together, a music and movement program for children. He serves also as conductor and musical director of the Lincoln Community Concert Band.
Dr. Fortney actively travels across the United States, serving as guest conductor and clinician for bands, orchestras, and early music educators.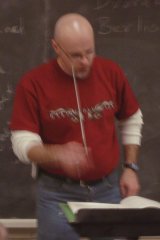 A long-time advocate of community ensembles, Fortney directed the Lincoln Civic Orchestra and founded and conducted the North Bend Area Community Band in Nebraska and the Delaware Community Band in Ohio.
Previous teaching positions include Nebraska Wesleyan University, Ohio Wesleyan University, University of Miami, the University of Nebraska-Lincoln, and public and private schools in Nebraska and Florida.
Fortney holds a doctorate in music education from the university of Miami School of Music, as well as a Bachelor of Music Education and a master's degree in Curriculum & Instruction from the University of Nebraska-Lincoln.
Fortney is a graduate of Yutan Junior-Senior High School in Nebraska.